Our main activities are grey and white cement, and masonry product manufacturing. We are able to provide global solutions for our clients in the field of construction materials. 
Grey Cement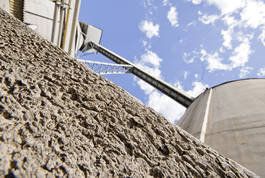 Grey cement is manufactured in compliance with the Lebanese Standard, NL 53:1999 and is distributed in the market to wholesalers, retailers, contractors, masons, ready mix concrete producers and concrete product manufacturers. We implement our global policy through the ISO 9001 certification for quality management and ISO 14001 for environmental management.
Holcim Lebanon operates modern manufacturing and control equipment to produce a wide range of products in bags and bulk. 
More information: Products and services
White Cement

Holcim Lebanon operates a white cement plant through its subsidiary "Société Libanaise des Ciments Blancs s.a.l. (SLCB), the only producer of white cement in Lebanon. Prodution of SLCB is able to meet the needs of the Lebanese market while exporting to Middle Eastern countries. White cement is mainly used to create unique architectural designs. 
For more information: Products and Services
Mastereen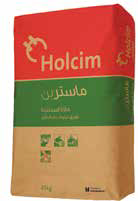 A masonry product especially formulated to provide excellent workability, high bond strength and reduced cracking. These qualities make easier and faster the application of mortar on all types of support as well as a pleasing final aesthetic appearance. Mastereen provides an excellent quality to mortar and contributes to reduce the final cost of masonry works.
Compared to general use cement, Mastereen ensures 8 to 12 more area coverage as well as 7 to 11 time saving. Thanks to its special formulation, Mastereen is an environmental friendly product.