We manufacture a masonry product that is especially designed for all masonry works.
Mastereen
Mastereen is a masonry product especially formulated to provide excellent workability, high bond strength and reduced cracking. Thanks to its special formulation, Mastereen is considered an environmental friendly product.
Specific characteristics
Due to Mastereen's specific characteristics,  the application of mortar on all types of support is easier and faster and provides a pleasing final aesthetic appearance. Mastereen provides an excellent quality to mortar and contributes to reduce the final cost of masonry works. Compared to general use cement, Mastereen ensures 8 to 12 more area coverage as well as 7 to 11 time saving. Mastereen is compliant with specifications of EN 413-1 for type MC 12.5.
Fields of application
Mastereen is particularly well suited for plastering, tiling, bricklaying and repointing works.
Mortar proportions
Mastereen has been designed in a way to respect the working practices and mixes used in the market.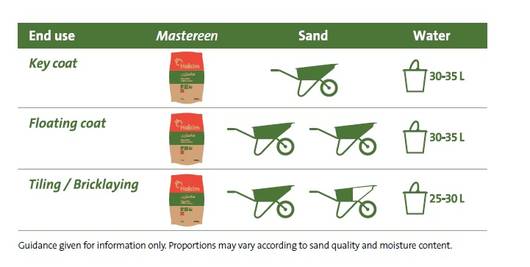 Proportions for 1 bag of 45 kg, wheelbarrow of 60 liters well leveled and water bucket of 10 liters.
Application restrictions
Mastereen shall not be used for reinforced concrete and structural works.
Availability
Holcim Lebanon supplies this product in 45 kg bags.