Quarry Rehabilitation Pilot Project
The quarry rehabilitation pilot project that was completed in the Chekka area is a model for the rehabilitation of Holcim Lebanon quarries and the abandoned quarries of Lebanon. The project provides a learning opportunity for all stakeholders and shows the challenges pertaining to quarry rehabilitation. Our aim is to share the project learnings with relevant stakeholders in order to replicate this pioneering initiative.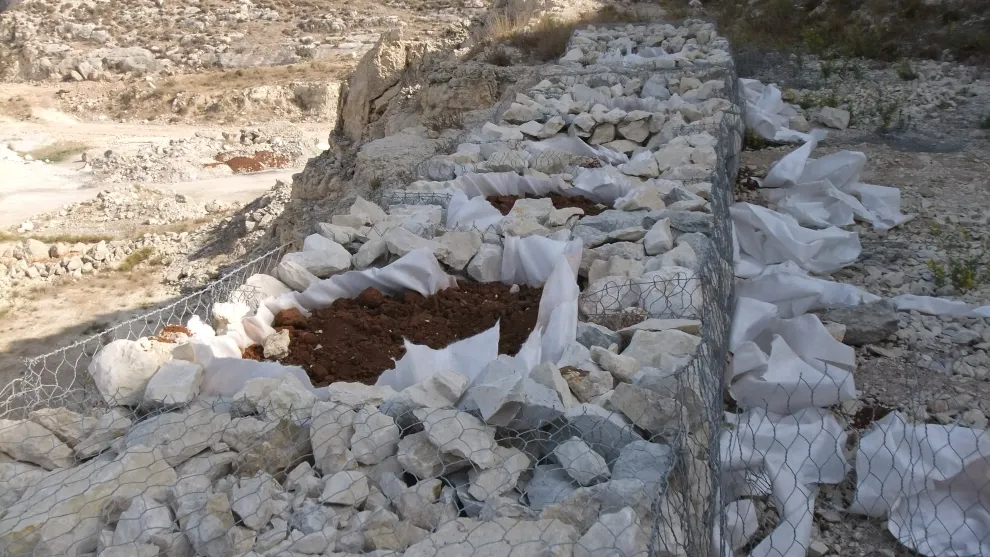 Rehabilitation Activities on site
The rehabilitation scheme divides the quarry site into four main subunits:, Cliffland, Highland , Coreland and Lowland according to the main concept of the design aiming to create coherently structured subunits respecting the key principles of ecological restoration and providing a fair space for education and scientific research purposes.
The cliffland promotes mosaic habitat creation through the alternation of bushes and grass spots.
The area was covered with an irregular layer of topsoil and planted with native species and shrubs. The natural landform was expanded and used as an "impluvium" (catchment basin) to retain soil. And internal gabion structures were installed to serve as a second defense line.
The Highland uses gabion structures and will serve for research and monitoring purposes
This section aims to break the visual impact of the excavation scars, create an adequate habitat attracting fauna species, increase biomass on the terrace and respect the natural dynamics occurring at the head of the quarry wall. One section included unplanted gabions to retain the soil fine materials while the other was covered with planted gabions with native shrub species.
The Coreland intends to create embedded and connected water loops.
The focus in the Coreland is to create a "water web" composed of a network of three ponds aiming to slow down water run-off, guide water across the site and create temporary water retaining structures that provide humidity to the site. As such, creating a network of sub-humid habitats in the dry environment, and improve amphibians and insect frequentation.
The Lowland acts as a "panel" for the rehabilitated quarry and a "demonstration" spot for the site.
The Lowland area aims to create a demonstration spot composed of adapted plant species used in the site restoration.  A stone/retaining wall of 100 cm is built in order to retain soil and stabilize the structure, along with Terrace-like structures of approximately 20 to 25 cm height are mounted across the arena and planted with trees and shrubs used in the reforestation of the site to improve visual integration.